Description
Capture the beauty of sound with our stunning soundwave art! Imagine having your favorite song, your baby's first words, or a heartfelt message from a loved one transformed into a unique and personalized piece of art. Our talented artists will convert  any sound of your choice into a stunning Art piece that is actually interactive  ,
which can keep as a digital copy or have it printed and beautifully framed .
You can also add the voice of your choice like your baby's first giggles (comes with a free code with a voice message ) or choose to have a video in 2 techniques to make it livable ( a QR code or a video that plays in the 3rd dimension with the surroundings around through latest technologies AKA Augmented reality!)
The result is a breathtaking work of art. Whether you're looking for a special gift for someone you love or a way to preserve a cherished memory, our soundwave art is the perfect choice. Order now and experience the magic of soundwave art for yourself!"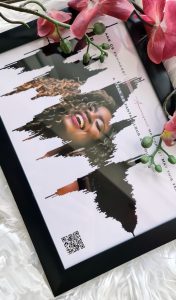 Available in 3 sizes ( can be done in customized frames and sizes  as well) A4 , A3 and A4
Needed from your Side : 6 Clear better be high resolution photo (5 inside the wave and one inside the heart) , the short written note (frames title) ,1minute max voice note , or 1minute max video for AR (if chosen)
for inquiries and orders feel free to contact us on Sara@giftodesigns.com or 00971561003573
Will be needing 1 better be horizontal photo with background "not so zoomed in".
You're welcome to pick it up from JVC or Delivery is available within UAE for 30dhs (for international deliveries international charges Apply) For urgent Order , less that 3days Pickup is from JVC and 100dhs charges apply
if you would like to see similar products check out our Mosaic soundwave art :